Back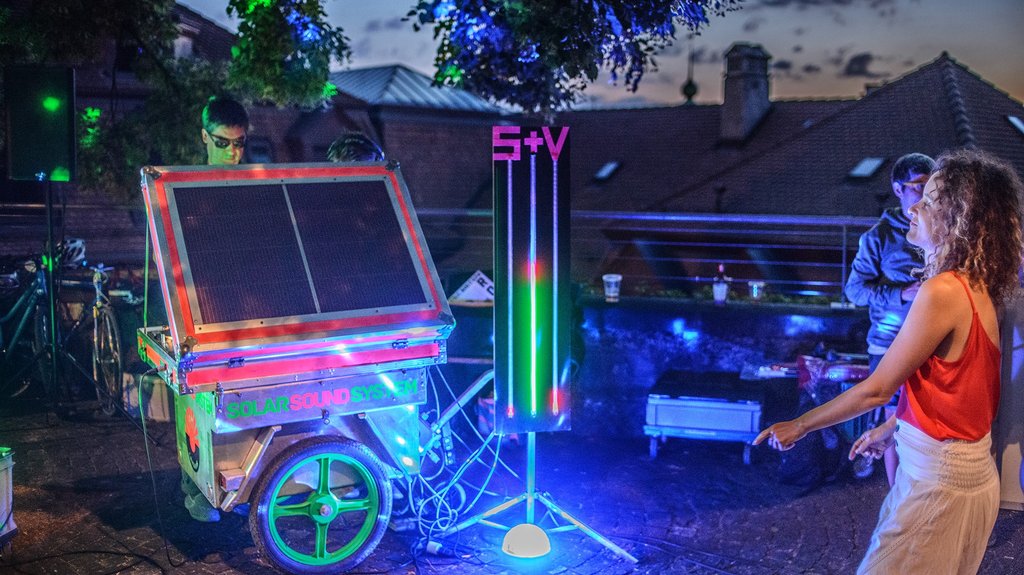 On Sunday the 10.07, Solar Sound System is at the Esplanade de la Cathédrale. 
---
Solar Sound System: The 100% eco-friendly disco! The Solar Sound System makes it possible to party with renewable energy! DJ sets and live shows powered by photovoltaic panels during the day and by bicycle generators at night. You have been warned, you will have to pedal!
PROGRAM: 
Tuesday 5.7                  
DesrtOfil - dj set
Fil aka filouzito, dj since 1994 and producer of electronic music since 2000 with Stéphane Détruche first under the name of " destr0fil ", collaboration which gave the famous rmx of Alain Bashung " ... " under the name of " Artifice " on the label " ARM Rec ". "Petite balade sous la pluie" is the last collaboration with Stéphane Détruche under the name of Destr0fil, it was released on the Luluxpo compilation "boom tchic tchak" in 2009. Then alone under the name of fil or filouzito the track "Without" released with Dachshund on the Harthouse rmx comp "Mirror of the future" and then on the label Helvet Undergroud with the release of the record "last db day's".
Mixcloud : https://www.mixcloud.com/fil-ouzito/
Mixcloud : https://www.mixcloud.com/fil-ouzito/artifice-destr0fil/
Wednesday 6.7            
mojoe - dj set
Mojoe is a passionate digger, DJ and co-programmer on Lausanne's Loose Antenna radio station. Bass music and broken rhythms rub shoulders in her sensitive (and eclectic) universe, wrapped in a percussive instrumental layer to keep you warm.
Soundcloud : https://m.soundcloud.com/mojoeee
Oscura Resistencia - dj set
Mysteriously oscillating between downtempo, cosmic-disco, library, alternative melodies, psychedelic rock, synth-pop and dub, Oscura Resistencia also turns to darker worlds with dark-wave, post-punk or techno accents. Through a danceable stroll with varied and moody electronic vapours, it explores the limits of the balance between softness and darkness. A fine soup of often unclassifiable ingredients, lovingly simmered and often surprising.
Instagram : https://www.instagram.com/oscura_resistencia/
Soundcloud : https://soundcloud.com/oscuraresistencia/sets/sets-podcasts
Mixcloud : https://www.mixcloud.com/oscura_resistencia/
Vimeo : https://vimeo.com/701630356
Youtube : https://www.youtube.com/watch?v=PZqLq2Wx4Ig
Zacab - dj set
Vinyl collector, confirmed raver and member of the sacrée deter, Zacab is strongly influenced by the underground culture of the 80's and 90's, and the emergence of related musical styles. That's why his eclectic selection resonates with the sounds of that generation.
Instagram : https://www.instagram.com/za.ca.b/?hl=fr
Soundcloud : https://soundcloud.com/zacharie-bellon
Thursday 7.7                  
That Girl & Maudite – dj set
"Two exploratory sessions during which That Girl and Maudite will centrifuge their elective affinities through bursts of vinyl soaked in smoky weirdness, enlightened stupidity and joyful sensory slips.
GNIII! SHAH!"
Soundcloud : https://soundcloud.com/maud-pollien
Mixcloud : https://www.mixcloud.com/rebootfm/sound-of-the-system-3-traum-2nd-hand-vinyl-mix-by-that-girl-2019-12-07/
Friday 8.7
JEAN CHARLES DE MONTE CARLO (JCDMC), is passionate about unicorns, weed and technology. He got lost on the dancefloors at the end of the 90's and since then he wanders between the humid cellars of squats and the clubs of different cities. His timeless, cosmic, even intergalactic sets will take you from the beaches of Betelgeuze to the asteroid fields of Alpha Centauri.
Mixcloud : https://www.mixcloud.com/jcdmc/
Website: www.cosmic-delights.ch
Instagram : https://www.instagram.com/jeancharlesdemontecarlo/
Facebook : https://www.facebook.com/Jean.Charles.De.Monte.Carlo
Saturday 9.7
Nathanaël & Cliff - dj set
DJ, collector, promoter and label manager, Nat has been active since the early 90s in the Swiss rock scene as guitarist of the noise band Deep Frozen. In 1997, he founded the electronic music magazine Welcomex and started mixing and organising parties all over Switzerland with the Mash up! collective, with 34m2 for the organisation of parties that have marked the dancefloors of French-speaking Switzerland. A vinyl collector for over 30 years, he is particularly fond of obscure dancefloor treasures. He co-founded the DJ collective Chateau Chépère in 2016 with DJ Starsand and Caillou, and the record label Chateau Chépère Records, whose first release was in March 2022.
Mixcloud : https://www.mixcloud.com/nathanel-hv/
Sunday 10.7       
At the Esplanade du Château
Gaetan aka Freaky Disko
Cem Server
Yaya
Ladybruce
Mixcloud : https://www.mixcloud.com/ladybruce/